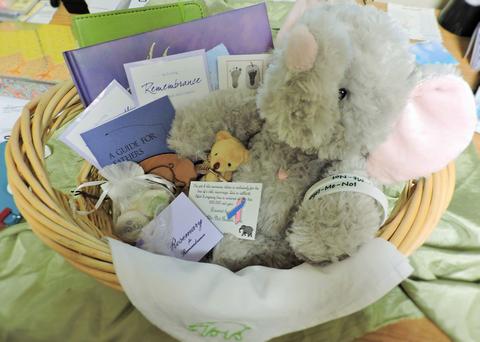 Frequently Asked Questions
How do families receive a basket?
We have made donations to over 24 hospitals and OB Offices.
Forget-Me-Not Baskets donates bereavement items for the hospitals to have on hand.
The nurses and staff deliver the bags and baskets and go through the items with the patients.
We do not come in contact with the patients.
If you would like to gift a basket to someone outside of our area served, you can purchase items through our HERE
Can I have a basket or bag donated in memory of my baby or honor of a family/friends baby?
Yes, Please click on the link below to sponsor an item in memory of a loved one.
Established in 2007 From
A Random Act Of Kindness
Sara Ringle donated a basket of bereavement items that she thought would be helpful to a mom, who experienced a loss during pregnancy or child birth. She donated the basket to Wooster Community Hospital. The hospital used the basket and then reached out for another one.
At that time, Sara did not have another one, but after a short discussion with friends, she put together and donated two baskets, to the hospital. The cycle continued and she saw a need in her community. From that one small act of kindness, Forget-Me-Not Baskets was created.
13 years later Forget-Me-Not Baskets® has donated over 3,856 We have also shipped items throughout the country.
Forget-Me-Not Baskets® has items for all members of the family and we provide bags and baskets for parents during any stage of their pregnancy.
Early Loss Bags
Late Loss Baskets
Dad's Bags
Sibling books and elephants
Grandparents books
Forget-Me-Not Baskets ® focuses on 2 things when considering items for their baskets
Grief support
Tangible items of remembrance and comfort
Sign Up For Our Newsletter

"It brings me such comfort to help others in a time that they feel so helpless.  We will never be able to change the outcome, but my hope is that we changed their experience, and that they felt loved."
Sara Ringle
Board Member

"As a grandparent it is meaningful to serve on our board to bring a new and different view to what we strive for as an organization. One goal of FMN is to touch in some small way, as many hearts as we can."
Barb Steele
Board Member

"As a hospital bereavement coordinator, Forget Me Not Baskets means to me both care for grieving families, and support for their caregivers. Our bereavement program would not be what it is without Forget Me Not."
Toni Mishler
Board Member
"We were touched that others were thinking of us and I would like other parents to know that they are cared about, especially during difficult times. Our family members cherish the keepsakes and we have been able to participate in the various events throughout the year. We find joy in doing these things together."
Kiley McAllister
Board Member